MICHELE SPITZ ~ Recording Artist & Entertainer
Traveling to Nashville just out of high school, Michele recorded her first single,  "Something I Never Got Over," on an independent record label.  Her first release was recommended for the "Hot Country 100" by Billboard Magazine.  She attracted everyone's attention with her single, "Old Fashioned Lover," which charted on Billboard Magazine's Hot 100 National Chart in 1981.  Michele has also received national airplay from several other singles released from her first album "Dreamrise."  Her last release on Prairie Dust Records, "Let It Be Me Tonight," was recommended as one of Billboard's Top Single Picks." 
At 17, Michele began her professional career opening up for such artists as George Strait, Aaron Tippin, David Ball, Bellamy Brothers, Tanya Tucker, Crystal Gale, Buddy Rich, Donna Fargo, Tommy Cash, Con Hunley, Jerry Reed, Jeanie Pruitt, Charlie Pride, Christie Lane, T.G. Shepherd, Faron Young, Hank William's Drifting Cowboys, Del Reeves, Danny Davis & the Nashville Brass, Natalie Stovall and others from the late 70's to the present. 
Michele's career has spanned over four decades performing in concerts, festivals, nightclubs, weddings and many area venues. She has performed on the stage of the Grand Ole Opry during it's 55th birthday celebration.  As well as Ernest Tubb's Midnight Jamboree, and clubs on Printer's Alley.   She also performed on Jamboree USA, a live radio show in Wheeling, WV and various television shows in the 80's.   In 1995, she was voted the "Best Country Female Vocalist" by the Bay Area Review.  Michele has also recorded several local advertising jingles playing on TV & radio in the Great Lakes Bay Region.
Now in the prime of her musical career Michele's latest project is paying Tribute to one of her favorite vocalists, Linda Ronstadt.  She performed her Tribute to Linda Ronstadt as part of the Ronstadt/Elvis/Diamond Tribute show at the Historic State Theatre in Bay City and also at area concerts throughout the Summer of 2018.  One of the highlights was opening for Natalie Stovall (Season 12 Voice) at Friday Night Live in Downtown Saginaw. Michele is gearing up for another exciting year performing at casinos, summer events, and festivals!  She will also be performing her Nashville recordings which charted on Billboard. 
Michele performs as a Solo Artist, Duo, or Group and is backed by some of Michigan's most talented musicians including The Straight Eights, a Jazz/Variety group.  Michele Spitz ~ Tribute to Linda Ronstadt takes you on a journey of Linda's timeless hits, powerful ballads, including her biggest rock hits from the 70's, her alternative country hits, her softer 80's rock ballads and   This exciting tribute show will have you singing and swaying along, as you are taken back in time by Michele's velvety voice and stunning resemblance to Linda. 
When Michele is in your area...Don't Miss Her!
PERFORMANCE VIDEOS BELOW: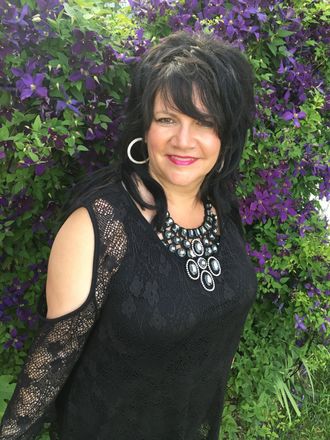 Press Photos